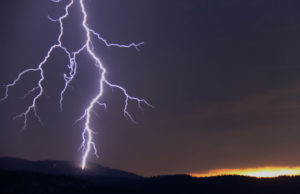 On September 5th Vancouver experienced a powerful lightning storm. The system was short lived, but caused damage to property and trees throughout the lower mainland. Below is a story, and some advice, about events that occurred on that day.
We are all familiar with power surges, but we might not be familiar with network surges. A network surge still requires a power spike to cause damage, but affects a different part of an electronic device; the network card. A network surge usually infiltrates a network at the weakest point, which is usually a consumer grade piece of hardware without a properly grounded plug. While rare, they can cause hundreds or even thousands of dollars in damage, depending on what is connected at the other end.
Unfortunately one of our staff members fell victim to a network surge at his home on that fateful day. Most if his computers and media devices were physically connected via a home grade switch with only a two prong power cord. This type of plug does not provide proper grounding for power and; therefore, is a weak link in a network's chain. When the surge occurred, it damaged a TV, two Apple TV devices, the router and the switch itself, which was hot to the touch. Network cards are integrated into most devices and cannot be replaced very easily. This fact can render the device useless if the network card's board gets fried.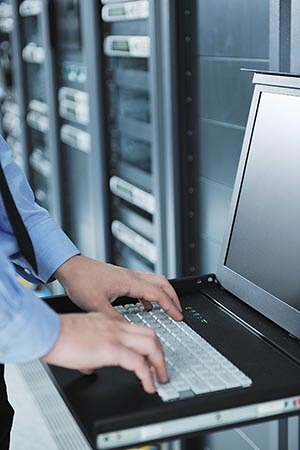 How to Protect the Network in a Business:
It is simple; deploy business grade hardware when setting up the network. Sea to Sky is adamant about this because we know what happens when cheap hardware is installed (see above). Business hardware is made to last and is designed with better components to manage large amounts of traffic from multiple users all day long. When purchasing hardware for your business it is best to consult with an IT provider, such as Sea to Sky Network Solutions, with experience building and managing a network infrastructure.
A point of interest:
It is not commonly known that a network cable can also power some devices. This technology is becoming more mainstream as businesses demand additional features from their electronics. Common electronic devices that utilize this 'Power over Ethernet' (PoE) feature are digital security cameras, wireless access points and other low voltage electronic monitoring devices that may not be close to a power outlet. As technology moves forward, we will find that more and more devices receive power this way. Considering this, it is ever more important to make sure a network, especially a business' network, is protected appropriately.
Conclusion:
The victim in this case will have to replace all of the hardware that failed, but life will go on. It will not be for nothing so long as the lesson from his misfortune is heeded by the rest of us.
Sea to Sky is dedicated to managing networks in an efficient and cost effective manner. Our client relationships are meant to be long-term and we work hard to provide solutions that make sense for today and tomorrow. If your business is interested in learning more about how we can help, contact a Sea to Sky Team Member by email at info@seatosky.com or by phone at  604.628.6970, ext.#1.
– Sea to Sky Team